Aim for growth, plan for disruption
European businesses are battening down the hatches in the face of swirling uncertainty, but leaders shouldn't just sit back and wait for a clearer picture. There are still growth opportunities in the market for those adopting the right strategies.
There is no shortage of uncertainty in Europe, both economic and political. Brexit, weak export demand from China, growing populist politics ahead of EU parliamentary elections and an economic cycle that has passed its peak are conspiring to erode confidence.
In fact, Grant Thornton's latest International Business Report (IBR) found that net economic optimism among EU business leaders – the percentage of optimists minus pessimists – fell by 18pp to 28% since Q2 2018. In eastern Europe, net optimism turned negative (-10%), plunging from 20%.
While the uncertainties are real, and businesses are right to be concerned, it's important to remember that there are still significant market opportunities for businesses, if they can adjust their strategies to deal with obstacles and exploit opportunities.
Larissa Keijzer, region head Europe, at Grant Thornton International, says: "While the future remains unclear, European businesses with the best understanding of potential outcomes and the right strategies will outperform the competition."
Read full Alert
Download PDF [390 kb]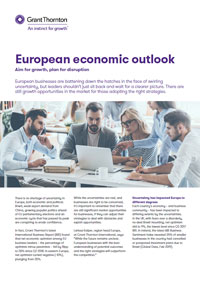 Solution 1: Seek out new international opportunities
In H2, EU export expectations fell to 19% from 23% in Q2, the lowest level since Q4 2012.
No doubt this is linked to concern about a slowdown regionally and in other key markets, like China. But there are untapped riches in new markets around the world. With the exception of developed APAC countries, global export expectations are holding up well and European businesses need to identify where their offerings fits in.
Solution 2: Use technology to manage uncertainty and seize opportunities
Technology is, of course, critical to businesses' long-term success and ability to remain competitive. But it can also play a significant role in managing uncertainty – something that European businesses may have overlooked, given that their twelve-month technology investment expectations slipped to 31% in H2, after peaking at 46% in Q2.
Solution 3: Attract and retain skills to build future growth
The labour market is tightening; and finding and keeping talent is a greater source of competitive advantage than ever. Companies need to start competing for employees in the same way as they do for customers.